ORION™ II CT Central Venous Catheters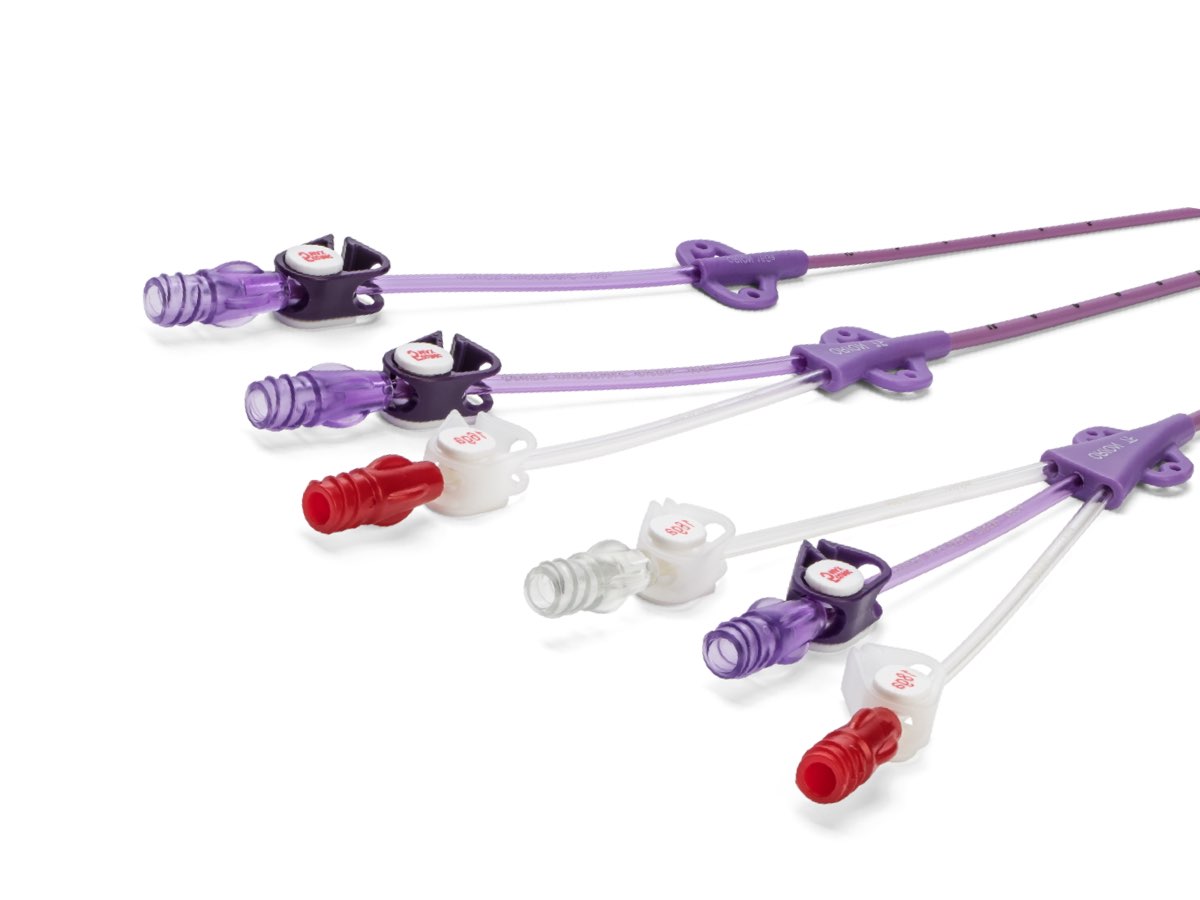 Non-Tunneled Power Injectable CVC Catheters Kits
The ORION™ II CT Central Venous Catheters are power injectable and intended for short-term infusion therapy. Available in a variety of sizes and lengths, the ORION™ II has an indwelling central line indicated for pressure injection of contrast media, which negates the need for another type of venous access. Health Line's non-tunneled power injectable CVC catheter kits streamline the scan process and save crucial time for clinicians and patients.
ORION™ II Venous Catheter Kit Features
Medical Uses
ORION™ II power CVCs are indicated for central vein access to perform bloodletting, fluid monitoring, multiple infusions, injection of contrast media, and necessary extended therapy.
Material
The polyurethane catheter construction provides radiopacity, durability, and strength, and a one-piece cannula construction with no bonds or welds ensures the catheter will not break. Reverse taper technology helps reduce post-insertion bleeding while maintaining radiopacity and ensuring patient comfort.
Tip Design
The soft, flexible tip reduces vessel irritation during insertion.
Injection Rating
Maximum injection rates allow for the injection of contrast media at rates up to 5ml/sec for CECT Scans.
Lumens
Available in single, dual and triple lumen configurations.
Simple Grip Luers
This non-tunneled power injectable CVC has simple grip luers that are easy on gloves and color-coded for multiple treatment options while maintaining strength and crack resistance.
Low Profile Hub
ORION™ II's low profile hub allows for easy suture or sutureless securement and improved patient comfort.
Easy Identification
Easily legible identification on line clamps and extensions indicate power injectability and maximum pressure.
ORION™ II Single Lumen CT Central Venous Catheter Kits
| Catalogue No. | CVC Description | Guidewire | Box Qty. | Carton Qty. |
| --- | --- | --- | --- | --- |
| A33-05110 | 16ga x 10cm Single Lumen CT CVC | Nitinol | 5 | 20 |
| A33-05113 | 16ga x 13cm Single Lumen CT CVC | Nitinol | 5 | 20 |
ORION™ II Double Lumen CT Central Venous Catheter Kits
| Catalogue No. | CVC Description | Guidewire | Box Qty. | Carton Qty. |
| --- | --- | --- | --- | --- |
| A33-05215 | 5f x 15cm Dual Lumen CT CVC | Nitinol | 5 | 20 |
| A33-05220 | 5f x 20cm Dual Lumen CT CVC | Nitinol | 5 | 20 |
| A33-07215 | 7f x 15cm Dual Lumen CT CVC | Nitinol | 5 | 20 |
| A33-07220 | 7f x 20cm Dual Lumen CT CVC | Nitinol | 5 | 20 |
ORION™ II Triple Lumen CT Central Venous Catheter Kits
| Catalogue No. | CVC Description | Guidewire | Box Qty. | Carton Qty. |
| --- | --- | --- | --- | --- |
| A33-07315 | 7f x 15cm Triple Lumen CT CVC | Nitinol | 5 | 20 |
| A33-07320 | 7f x 20cm Triple Lumen CT CVC | Nitinol | 5 | 20 |
Standard ORION™ II CT Central Venous Catheter Kit Components
CT CVC Polyurethane Catheter
ICU MicroClave® (1 – 3)
.035" Guidewire
18ga x 7cm Introducer Needle
8Fr x 10cm Dilator
Syringe (10ml)
Raulerson Syringe (5ml)
IFU
Removable Suture Wing
Scalpel
Request Product Information