TAURUS™ Permanent Hemodialysis Catheter Kits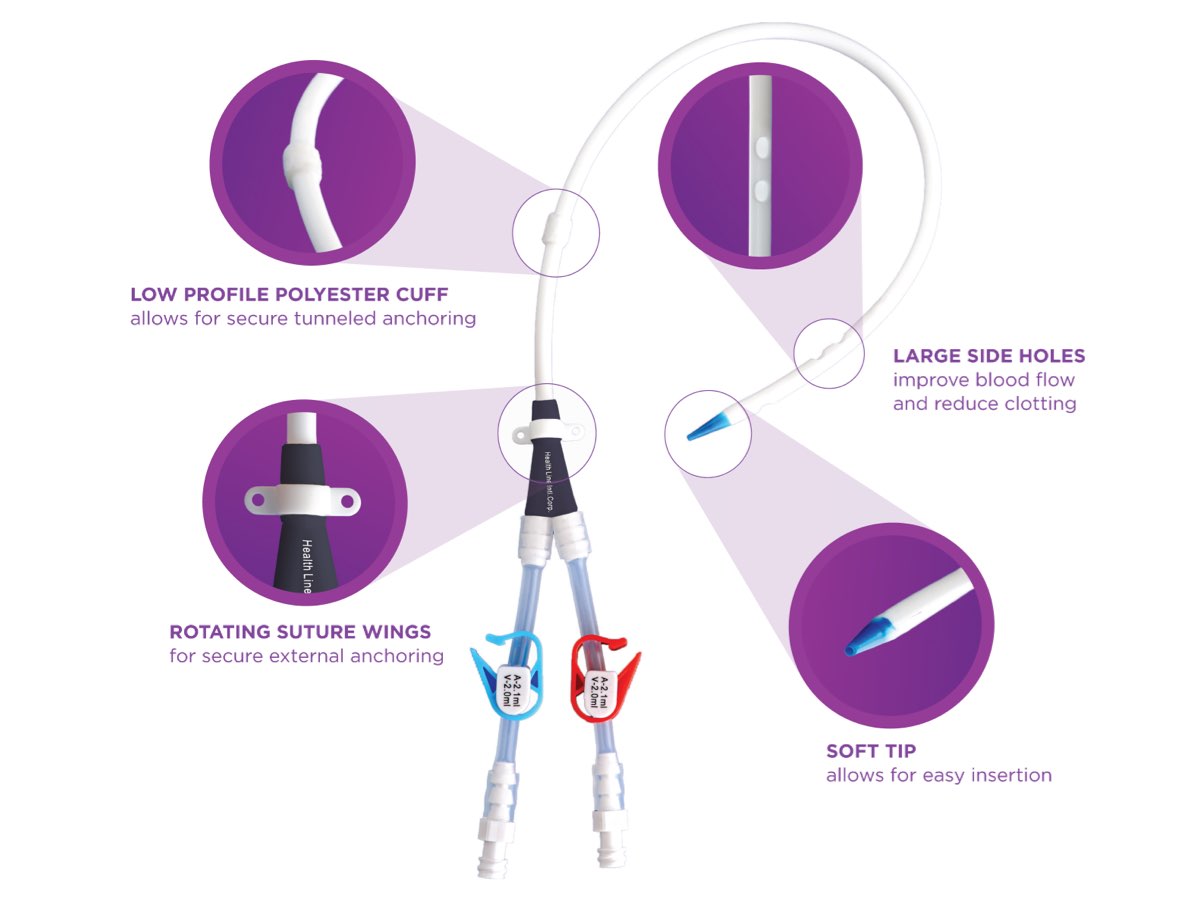 Permanent Hemodialysis Catheters for Chronic Dialysis Therapy
The TAURUS™ dialysis catheter is indicated for use in attaining long-term vascular access for hemodialysis therapy. Available in 14.5Fr diameter, these tunneled polyurethane dialysis catheter kits come in a range of lengths and kit configurations that allow high flow rates and decrease patient therapy times.
TAURUS™ Permanent Hemodialysis Catheter Kit Features
Medical Uses
The TAURUS™ catheter kits are intended for long-term implantation for hemodialysis therapy.
Material
Radiopaque polyurethane provides excellent visibility and biocompatibility.
Tip Design
The tunneled catheter's soft tip design allows for easy insertion.
Circle C Cross Section Design
The Circle C design optimizes blood flow and minimizes venous back pressure.
Anchoring
The TAURUS™ polyurethane catheter has a low-profile polyester cuff that allows for secure tunneled anchoring and rotating suture wings for secure external anchoring.
Large Side Holes
The TAURUS™ catheter's large side holes improve flow rates and infusion times.
TAURUS™ Permanent Hemodialysis Catheter Kits
| Catalogue No. | French Size | Length (cm) Tip to Cuff | Length (cm) Tip to Hub | Catheter Type | Extension Type | Box Qty. | Carton Qty. |
| --- | --- | --- | --- | --- | --- | --- | --- |
| A41-145224SS | 14.5 | 19 | 24 | Straight | Straight | 5 | 20 |
| A41-145228SS | 14.5 | 23 | 28 | Straight | Straight | 5 | 20 |
| A41-145232SS | 14.5 | 27 | 32 | Straight | Straight | 5 | 20 |
Standard TAURUS™ Permanent Hemodialysis Catheter Kit Components
Taurus Polyurethane Catheter with Cuff
Tearaway Introducer
10cc Luer Lock Syringe
Injection caps (2)
Tunneling Stylet
Guidewire
Dressing
18g Needle
12F x 150mm Dilator
#11 Safety Scalpel
Request Product Information