Eagle Flow™ Temporary Hemodialysis Catheter Kits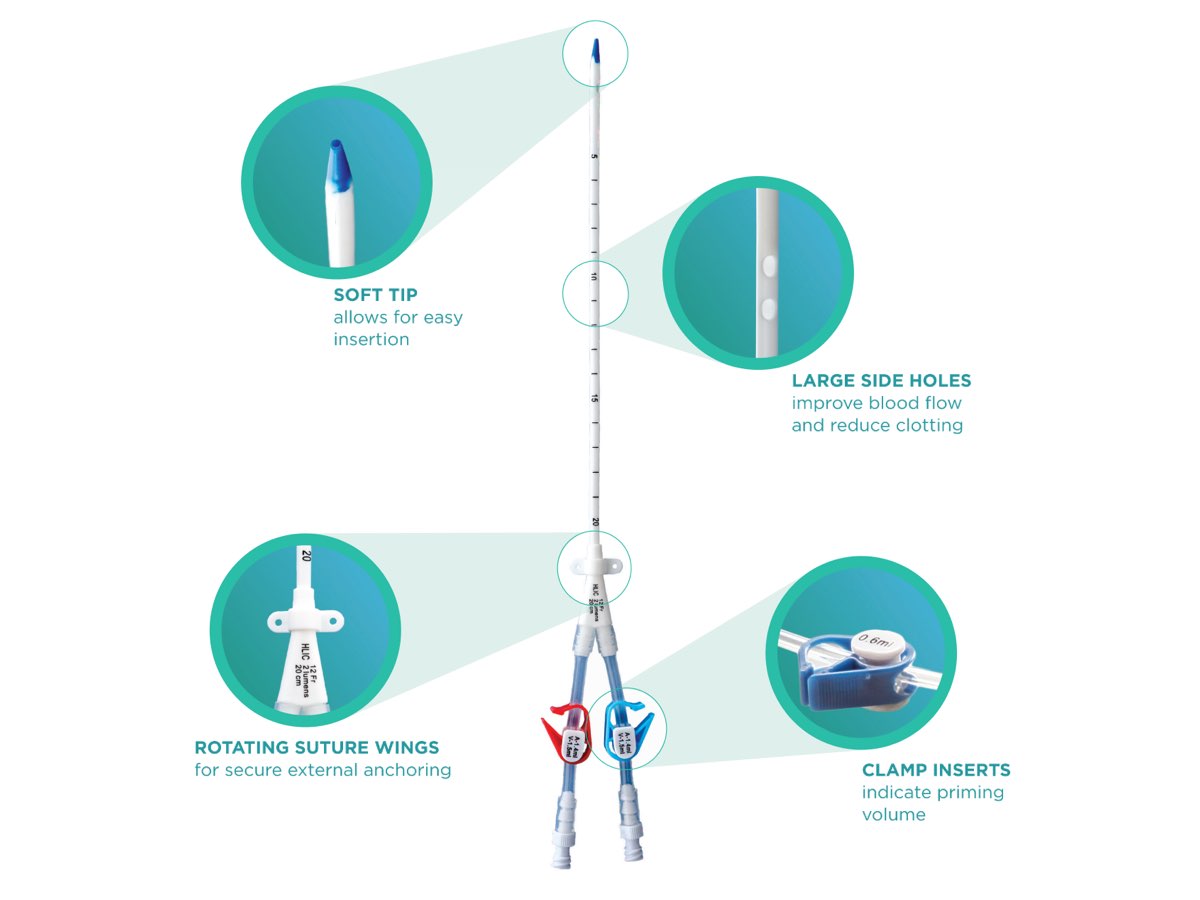 Temporary Hemodialysis Catheters for Acute Dialysis Therapy
The Eagle Flow™ non-tunneled polyurethane dialysis catheter kits come in a range of lengths and kit configurations and are intended for acute dialysis and apheresis therapy.
Eagle Flow™ Temporary Hemodialysis Catheter Kit Features
Material
Thermal reactive polyurethane softens after insertion for improved patient comfort.
Straight or Curved Construction
The Eagle Flow™ catheter comes in either straight or pre-curved variations.
Tip Design
The non-tunneled dialysis catheter's soft tip design allows for easy insertion.
Anchoring
The polyurethane catheter has rotating suture wings for secure external anchoring.
Large Side Holes
The temporary hemodialysis catheter's large side holes improve blood flow and reduce clotting.
Clamp Inserts
The Eagle Flow™ catheter kit's line clamp inserts indicate priming volume.
Eagle Flow™ Temporary Hemodialysis Dual Lumen Catheter Kits
| Catalogue No. | Description | French | Length (cm) | Catheter Type | Extension Type | Box Qty. | Carton Qty. |
| --- | --- | --- | --- | --- | --- | --- | --- |
| HMP-2-15- SSK | 12Fr Eagle Flow™ Acute Dual Lumen | 12 | 15 | Straight | Straight | 5 | 20 |
| HMP-2-20-SSK | 12Fr Eagle Flow™ Acute Dual Lumen | 12 | 20 | Straight | Straight | 5 | 20 |
| HMP-2-24-SSK | 12Fr Eagle Flow™ Acute Dual Lumen | 12 | 24 | Straight | Straight | 5 | 20 |
| HMP-2-15 -SCK | 12Fr Eagle Flow™ Acute Dual Lumen | 12 | 15 | Straight | Curved | 5 | 20 |
| HMP-2-20-SCK | 12Fr Eagle Flow™ Acute Dual Lumen | 12 | 20 | Straight | Curved | 5 | 20 |
| HMP-2-24-SCK | 12Fr Eagle Flow™ Acute Dual Lumen | 12 | 24 | Straight | Curved | 5 | 20 |
| HMP-2-15- CSK | 12Fr Eagle Flow™ Acute Dual Lumen | 12 | 15 | Curved | Straight | 5 | 20 |
| HMP-2-20-CSK | 12Fr Eagle Flow™ Acute Dual Lumen | 12 | 20 | Curved | Straight | 5 | 20 |
| HMP-2-24-CSK | 12Fr Eagle Flow™ Acute Dual Lumen | 12 | 24 | Curved | Straight | 5 | 20 |
Eagle Flow™ Temporary Hemodialysis Triple Lumen Catheter Kits
| Catalogue No. | Description | French | Length (cm) | Catheter Type | Extension Type | Box Qty. | Carton Qty. |
| --- | --- | --- | --- | --- | --- | --- | --- |
| HMP-3-15-SSK | 12Fr Eagle Flow™ Acute Triple Lumen | 12 | 15 | Straight | Straight | 5 | 20 |
| HMP-3-20-SSK | 12Fr Eagle Flow™ Acute Triple Lumen | 12 | 20 | Straight | Straight | 5 | 20 |
| HMP-3-24-SSK | 12Fr Eagle Flow™ Acute Triple Lumen | 12 | 24 | Straight | Straight | 5 | 20 |
Standard Eagle Flow™ Temporary Hemodialysis Catheter Kit Components
Polyurethane Catheter with Soft Tip
Introducer Needle
Guidewire
Vessel Dilator
Scalpel
4×4 Gauze (2)
Syringe
Raulerson Syringe
Injection Caps (1 – 3)
Wound Dressings
Needle
IFU
Request Product Information